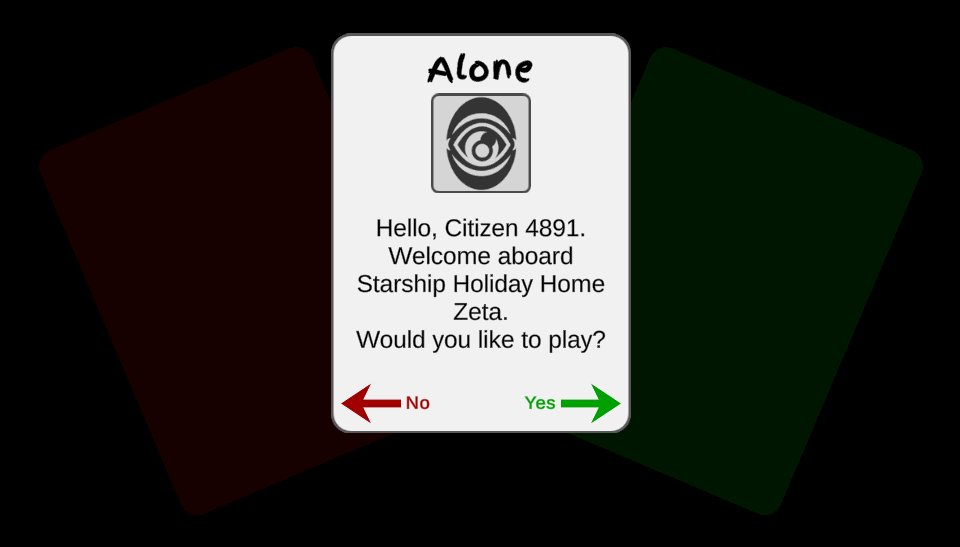 Alone
A downloadable game for Windows
Welcome aboard Starship Holiday Home Zeta! You're here to have a relaxing vacation. Your very own personal Welcome Robot will show you to your quarters, with all your basic needs. Don't get too comfortable, the Starship Holiday Home has all you can possibly need or want, right outside your quarters! Just step outside!
FACT SHEET
Developer: Matthew Crossley
Release Date: 3rd April 2020
Platforms: Windows
Price: Free
FEATURES
An interactive narrative, focusing on the idea of two choices!
35 narrative cards, each with outcomes. That's right, outcomes!
Three hidden stats that control how your adventure plays out. What are they? That's for me to know, and you to wildly speculate about!
Four endings. They're all different! Well, kinda.
A basic prototype which might be expanded on in the future...
ABOUT THE GAME
Alone was made for Lockdown Jam #1 at Manchester Metropolitan University. The theme was 'Power of Two', and Alone attempts to embody this with the mechanic of offering a brief text snippet, and then asking the player to make a choice between two keywords.
Each journey through the story is loosely influenced by the choices made by the player, and there is plenty of randomness. The order the cards come up in will determine the decisions you have to make, the story that you see, and probably the ending that you have!
CREDITS

Card Icon Images: game-icons.net
Game Design, Programming, all other images, etc.: Matthew Crossley